Our Big Sky Just Got Closer: Luxury Private Jet Service to Paws Up
Introducing Private Jet Service to The Resort at Paws Up
Clearing a path from your neck of the woods to our Ponderosa pines, Paws Up is thrilled to introduce private jet service by XO, the leader in on-demand private travel. Now you can book on-demand personalized flights to and from Missoula International Airport, just 30 minutes from The Resort. And customized itineraries can be designed around your schedule, not the schedules of the airlines.

As soon as you land, you're greeted on the tarmac by a member of the Paws Up staff and whisked straight to your accommodations, where you can rest and relax. Of course, with private, personalized service like this, you might just want to hit the ground running. After all, there are no limits to the adventure, rejuvenation and self-discovery you'll find at The Resort at Paws Up.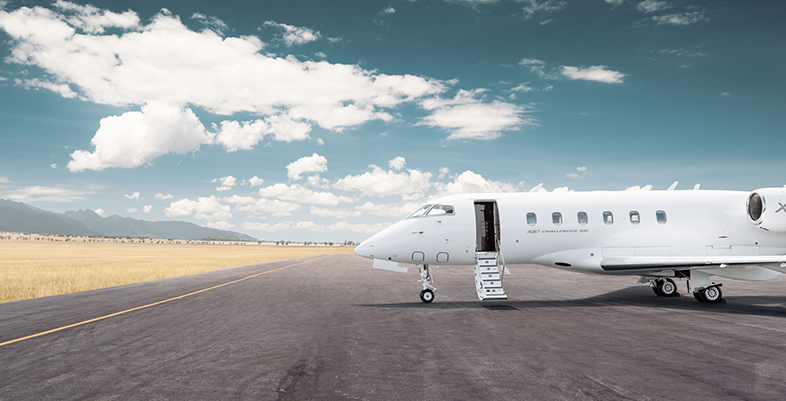 Put Your Paws Together for XO.
From There to Here in an Instant
Carefully chosen to provide the highest level of service, XO is a seamless extension of your Paws Up experience. Book your customized travel to and from cities all over the globe. XO customers save approximately 30% over the cost of fractional jet ownership and 20% versus jet card programs.

By flying privately, you're in control of all the details of your trip. You can choose from a complete suite of flight solutions—from on-demand charter flights to programs customized specifically to your needs.

XO provides access to comfortable, direct travel from wherever you choose. In addition, XO is pleased to offer Paws Up guests with fixed, discounted pricing from these major airports:
Get direct service to Missoula, Montana, from the following cities and airports.
| Region | Airport Code | Airport |
| --- | --- | --- |
| Atlanta | PDK | Peachtree-DeKalb |
| Bay Area | SFO/OAK | San Francisco/Oakland |
| Boston | BED | Bedford |
| Chicago | MDW | Chicago Midway |
| Dallas | DAL | Dallas Love |
| Houston | HOU | Houston Hobby |
| Los Angeles | VNY/LAX | Van Nuys/Los Angeles International |
| Miami | MIA/OPF | Opa Locka |
| New York | TEB/HPN/FRG | Teterboro/White Plains/Farmingdale |
| Palm Beach | PBI | Palm Beach International |
| Seattle | SEA | Seattle-Tacoma |
| Washington, D.C. | IAD | Washington-Dulles |
Paws Up guests have priority access to the entire fleet of XO Aviation Challenger 300 and Citation X jets. Seating accommodates up to 9 passengers on the Challenger 300 and up to 8 passengers on the Citation X.
Challenger 300
A sophisticated, transcontinental, high-performance jet, the Bombardier Challenger 300 meets private customer needs like no other aircraft in its category. The Challenger seats 9 passengers.
It boasts a large cabin, coast-to-coast range, short airfield takeoff and landing advantages, exceptional performance even under high-altitude conditions and a cruising speed of 620 miles per hour.
Complimentary Wi-Fi, in-flight entertainment and pre-stocked amenities included.
Luggage Capacity: 8 soft-sided golf bags, 8 medium-sized roller bags
Citation X
The Cessna Citation X is the fastest cross-continental business jet in the world. While it stands out for its radical edges, it's the scientific intention behind the streamlined design that makes this jet suitable for savvy flyers. It seats 8 passengers.
With a top speed of 700 miles per hour, the Citation X is powered by massive Rolls-Royce engines designed for commercial airliners. This private aircraft covers one mile every six seconds, shrinking a Los-Angeles-to-New-York flight to four hours—an hour faster than conventional business jets.
Complimentary Wi-Fi, in-flight entertainment and pre-stocked amenities included.
Luggage Capacity: 4–6 soft-sided golf bags, 4–6 medium-sized roller bags
XO offers The Resort at Paws Up guests year-round fixed-rate pricing to and from Missoula International Airport from cities across the country. Standard pricing applies for regions outside of those listed in the above chart. Contact a Paws Up Reservations Specialist at 877-337-1945 or aviationservices@pawsup.com for pricing information.
Book Your Flight
The Best Way to Get to the Great Outdoors
Whether you're visiting from the East Coast, West Coast or smack dab in the middle of the country, XO makes your entire trip to Paws Up as seamless as possible.
Explore your options with our private jet service. Contact a Paws Up Reservations Specialist at aviationservices@pawsup.com. We'll help you book your flights in just a few easy steps. For more info, visit https://flyxo.com.