Private Luxury Camps
An entire luxury camp just for your group.
Whether you are planning a family reunion, milestone birthday or anniversary celebration, corporate retreat or any other special event, you can reserve an entire luxury camp just for your group. You'll have six luxury tents and exclusive use of the camp's dining pavilion, fire pit, chef and, most importantly, your own camping butler who will cater to your every whim. Looking for something different and memorable for your next family or group vacation? Look no further than The Resort at Paws Up – North America's premier luxury camping destination.
Rates
The following rates include the exclusive use of all six tents, Dining Pavilion, camping butler, camp chef as well as three meals per day, per person. Rates do not include taxes or resort fees.
Private Camp Details
Camp
# Tents
Maximum Occupancy
Accommodates
Private Dining
Pavilion
Personal Butler
Fall/Spring Pricing**
Summer Pricing**
River Camp
6
20 people
12 adults/8 children
$10,897/night
(a $793 savings)
$15,262/night
(a $1,278 savings)
Moonlight Camp
6
21 people*
12 adults/8 children
$7,882/night
(a $458 savings)
$11,734/night
(a $886 savings)
Creekside Camp
6
21 people*
12 adults/8 children
$7,882/night
(a $458 savings)
$11,734/night
(a $886 savings)
Pinnacle Camp
6
20 people
12 adults/8 children
$11,338/night
(a $842 savings)
$15,703/night
(a $1,327 savings)
Cliffside Camp
6
20 people
12 adults/8 children
$11,266/night
(a $834 savings)
$15,334/night
(a $1,286 savings)
North Bank Camp
6
31 people*
12 adults/8 children
$12,112/night
(a $928 savings)
$17,908/night
(a $1,572 savings)
*Bunk beds or day beds available
**Starting rates before taxes and resort fees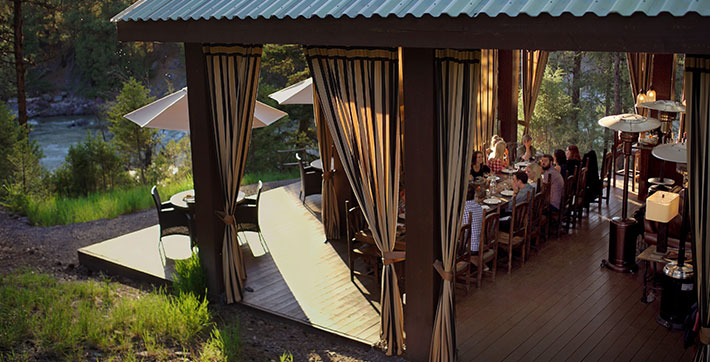 Expand
Close
Luxury Camping at a Glance
Luxury Camp
Bedrooms
Square
Feet
Capacity
Bathrooms
Camping Butler & Camp Chef
24-Hour Transportation
Internet & Cell Service
Details
Moonlight Camp
4 two-bedroom tents
975
4 guests
En suite
Location: 100 yards from the Blackfoot River
Distance to Village: 4.4-mile drive
2 one-bedroom tents
605
2 guests
En suite
Creekside Camp
4 two-bedroom tents
830
4 guests
En suite
Location: On the banks of Elk Creek
Distance to Village: 4-mile drive
1.75-mile walk
2 one-bedroom tents
505
2 guests
En suite
Pinnacle Camp
4 two-bedroom tents
1,030
4 guests
En suite
Location: On the banks of the Blackfoot River
Distance to Village: 4-mile drive
1.75-mile walk
2 one-bedroom tents
( 1 honeymoon tent)
565
2 guests
En suite
River Camp
4 two-bedroom tents
830
4 guests
En suite
Location: On the banks of the Blackfoot River
Distance to Village: 4-mile drive
1.75-mile walk
2 two-bedroom tents
605
2 guests
En suite
Cliffside Camp
4 two-bedroom tents
975
4 guests
En suite
Location: On the banks of the Blackfoot River
Distance to Village: 4-mile drive
1.75-mile walk
2 one-bedroom tents
( 2 honeymoon tents)
605
2 guests
En suite
North Bank Camp
2 three-bedroom tents
1,220
6 guests
2 En suite
Location: On a ridge overlooking the Blackfoot River
Distance to Village: 4.4-mile drive
4 two-bedroom tent
984
4 guests
En suite