Executive Chef
Ben Jones
At its most basic level, food provides the fuel that our bodies need to stay alive. But nothing here at The Resort at Paws Up is basic. Our passion is taking the necessities of life—food, drink, shelter, nature, relationships, experiences—and elevating them to their highest level, transforming them into art.
Executive Chef Ben Jones is a culinary artist. His attention to every detail of his art form is inspired and nuanced. He is committed to using the finest ingredients and has built close relationships with area ranchers, dairy farmers, distillers, sustainable farmers, vintners, makers of specialty oils and others. He acknowledges that these local purveyors are "my daily source of energy."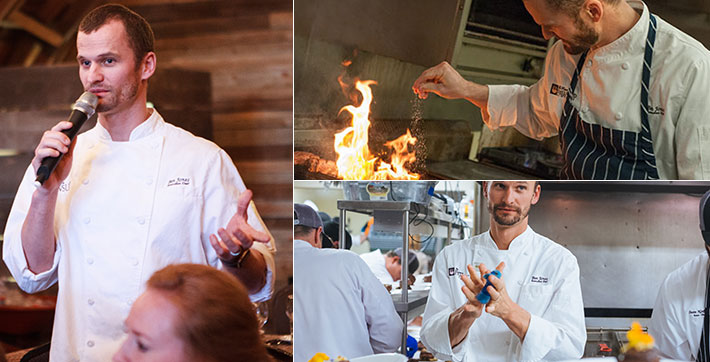 "I believe that I should be able to make every guest smile," says Jones, "perhaps by the way I present my dishes, or where I buy my vegetables or from the simple vapor from a dish that takes them back to a memory long lost. When I discovered that food was my creative outlet, as well as the most satisfying way to make people happy, it became my passion. I am thankful that happened when I was 10 years old. For 29 years I have been looking at food as not only a creative process, but also a soul-awakening experience."
Jones cites chefs Thomas Keller, Jean-Louis Palladin, Charlie Trotter, Marc Veyrat and Alice Waters as culinary inspirations. He gained experience with Montana's best local game and fresh seafood during his recent position as the Executive Chef at Missoula's Blue Canyon Restaurant. Prior to heading west, he was the Chef for the Lobby restaurant at the Peninsula Chicago. Recently, Jones further established his credentials by headlining a lavish dinner event at the famed James Beard House in New York City.
Now Jones oversees the culinary operations at Paws Up, with two restaurants, five Dining Pavilions within the luxury tented camps and a variety of outdoor dining venues. He also serves as the host chef for a growing number of culinary events, including Montana Long Table, Montana Master Chefs, Montana Master Grillers and WildFlavor.
As Jones explains, "Indulging" in and exploring your passion for food and beverage is an important part of every visit to Paws Up. You will be within a community of great chefs, pit masters, smokeologists, mushroom foragers, vintners, local distillers, pie whisperers and organic co-op farmers. Together we share our individual passions with you, our guests."
Your culinary adventure awaits!
---
Dining Related Links