Montana Weddings
With starlit skies and untouched wilderness, Paws Up provides a panoramic, awe-inspiring backdrop for a one-of-a-kind Montana wedding. Whether you envision a traditional black-tie affair, a romantic elopement or a casual cowboy hitching, The Resort at Paws Up is the perfect venue for weddings of any style. Your momentous day is sure to be stunning and flawless with the assistance of a personal event planner and Paws Up's creative and highly professional caterers.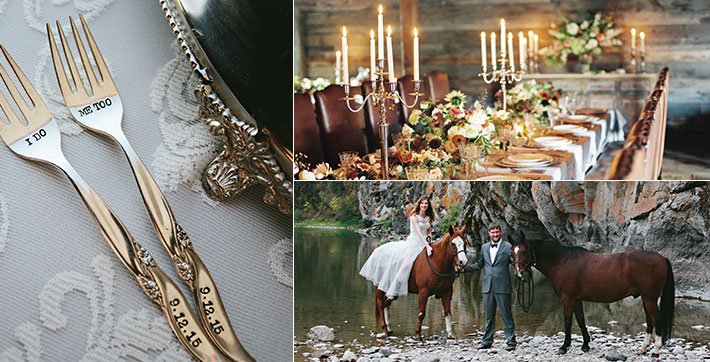 Back to Top
The Bull Barn: Ideal for Gatherings of Any Kind
They were rock stars of the ranch world. Known as the Black Angus Bulls of Paws Up, these celebrity bovines congregated in a very special house—the Bull Barn at Paws Up. This authentic Montana cattle barn has been newly renovated into a world-class event center. Located in the Village at Paws Up, this inspiring venue is the perfect location for weddings or gatherings of any kind.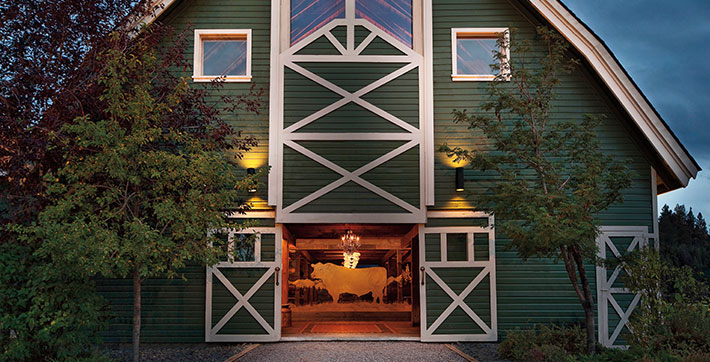 The first floor of the Bull Barn features functional space while still retaining the feel of the original structure from 1905. The reception area and Hereford Pen room are perfect spaces for meet-and-greets, and they include all of the necessary equipment for servicing your function. Large, authentic sliding barn doors open to the Bull Pen Patio, allowing events to expand to the breathtaking outdoors for breaks and receptions.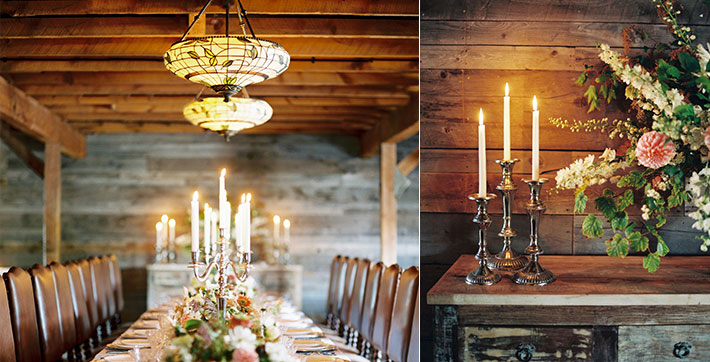 The Great Angus Hall is an expansive banquet venue that features 3,145 square feet of space complete with a soaring vaulted ceiling and audiovisual equipment. This prodigious room in the upper level of the Bull Barn—formerly used for hay storage—serves as the perfect space for large events. The exposed rafters, blue-stain pine wood paneling and dramatic chandeliers give this grand restored hayloft a rustic, yet sophisticated ambiance. The hall is ideal for weddings, receptions and social gatherings for up to 200 people. Countless configuration options are available to customize your special event.
Bull Barn Capacities (9,000 total sq ft)

1st level

Reception area/Hereford Pen
4,185 sq ft
Patio
1,680 sq ft

2nd level

Great Angus Hall
3,145 sq ft
Download a Bull Barn pdf with detailed floor plans, interior images and other information.
---
Back to Top
Wedding Packages
Whether you desire to share your vows on the banks of the legendary Blackfoot River or perched in saddles atop Lookout Rock, The Resort at Paws Up will make your dream Montana wedding into a reality. Select the wedding package at that is right for you:
---
An Intimate Wedding
This will host up to 30 guests at Paws Up for your wedding weekend.
A Ranch Wedding
This will host up to 60 guests at Paws Up for your wedding weekend.
An Exclusive Wedding
This will host up to 120 guests at Paws Up for your wedding weekend.
All Packages Include:
Catered wedding reception/dinner
Use of ceremony and reception venues
Transportation from/to Missoula International Airport for all guests
---
All guests attending your wedding must be registered guests of The Resort. Based on your estimated number of guests, you must guarantee a minimum number of accommodations. Our luxury ranch resort offers a variety of sleeping accommodation options ideal for wedding groups. With ten lodges (Wilderness Estates) offering a total of 30 Suites, each with their own exterior entrances, to 18 luxury cabins and 36 luxury safari-style tents (May/September/October only), the options are endless. Here is a link to help you become more familiar with all the housing options.
Contact Us
Group-Related Links