Winter Wine Weekend With Kenefick Ranch
Aged in French oak, poured under Montana pine
January 18–20, 2019
You won't find any grapevines under the freshly fallen snow at The Resort at Paws Up. But you will benefit from the fruits growing in the northern Napa Valley, where Kenefick Ranch has carved out a reputation for viticultural excellence. Come get a noseful of these big, winter-welcoming reds as only the Kenefick family produces them. Get to know the distinctions between their Founder's Reserve Bordeaux blend and Chris's Cuvée Cabernet Sauvignon with help from Chris and Caitlin Kenefick themselves. These second-generation owners will host an informative library tasting and offer wine pairings with seasonal cuisine prepared by Paws Up Executive Chef Sunny Jin.
Between sips, you'll have time to explore Montana on the back of a snowmobile or on a horse. Or take time to kick back and let your horse-drawn sleigh guide regale you with stories. To fully relax, end your day with a glass of Kenefick Cabernet and a soak in your private outdoor hot tub.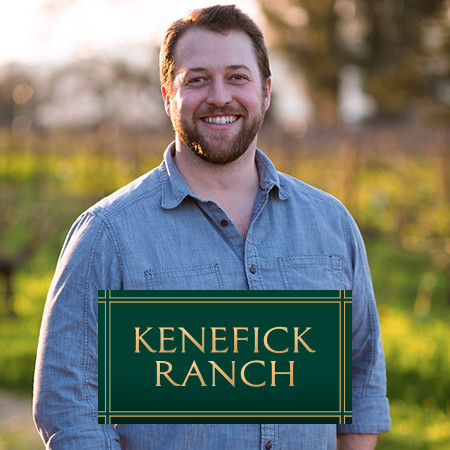 This is a massive Cabernet Sauvignon that should drink well for 25–30 years. Don't let that scare you away at present, because the wine has velvety tannins and is super-well-endowed and impressive
.
Featured Vintner
Kenefick Ranch
Calistoga, CA
The land sits on the northern end of the Napa Valley, overlooking the foothills of the Palisades near Calistoga, its volcanic soils rife with the nutrients and aeration that help grapevines thrive. When Dr. Tom Kenefick first saw it, he saw the possibilities. Since 1978, Kenefick Ranch grapes have been coveted by nearby vintners, many buying grapes from the Keneficks, including Caymus, among others. Starting in 2002, the Kenefick family knew it was time to produce its own wines. As precise with wine production as he was as a surgeon, Kenefick's winemaking philosophy involves using native yeasts, handcrafted techniques and French oak barrels to achieve some exceptional new world wines.
Now with a barrelage of around 3,000 per year, Kenefick Ranch has become a respected Napa vintner in its own right. Warmer days and cooler nights, along with those volcanic soils, make this region ideal for the Kenefick Ranch Cabernet Sauvignons and other Bordeaux-influenced varietals, Cabernet Franc and Merlot among them, as well as Rhône varietals such as Petite Sirah.
The next generation of this family-run Napa wine producer recall growing up driving tractors during visits to the ranch, long before they got behind the wheel of a car. Caitlin Kenefick describes the family wines as "earthy, big and bold, just like my father." Her brother, Chris Kenefick, savored his regular visits to the ranch so much that in the summer of 2016, he left a San Francisco hospitality career to follow his passion for wine. Now a co-owner and vice-president of sales for Kenefick Ranch, his interest in the world of viticulture stretches back as long as he can remember. Caitlin, Chris and Tom Kenefick have created a family tradition of sophisticated wines the family has produced for nearly two decades. "We've built this business from scratch," Chris Kenefick says. "Someone didn't just come along and dump a bunch of money into it. It's been a labor of love for many years."