Group Lodging
For Groups from 10 to 275
As one of the larger ranch resorts in the West, Paws Up offers accommodations for groups of up to 200 guests. Choose from a selection of luxuriously appointed, multi-suite homes designed specifically to accommodate groups and retreats.
---
Luxury Homes
Consider reserving 30 Wilderness Estate Suites, each with a private ensuite master bath, to exploring our 18 luxuriously appointed homes that offer 2-, 3- and 4-bedroom options for your group. In total, your group can enjoy a total of 73 bedrooms and 65 bathrooms in luxury homes ranging from two-bedroom Meadow Homes and Big Timber Homes to the prodigious Wilderness Estates.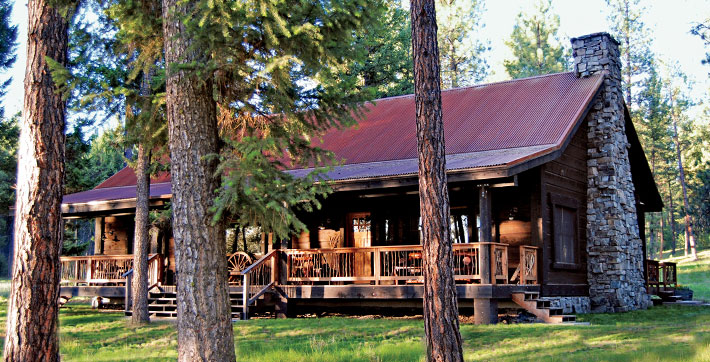 ---
Back to Top
Luxury Camps
From mid-May through mid-October, groups can reserve up to 36 luxury tents, each with a private, en suite master bathroom. The 36 tents are reminiscent of luxury hotel rooms, and each features hardwood floors, sumptuous beds, art-adorned walls, dressers, electricity, air conditioning and heat. The bathrooms include heated slate floors, Montana-size showers and expansive vanities.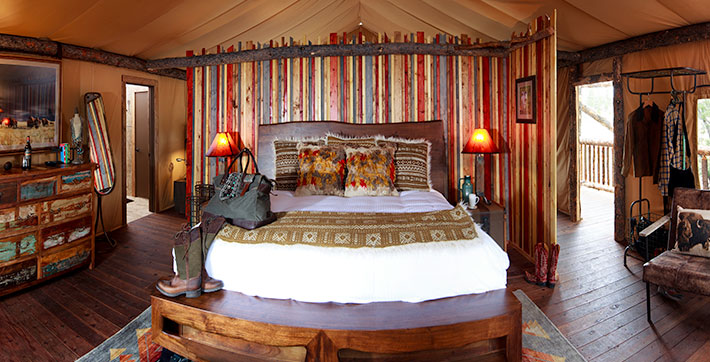 Luxury Camping at a Glance
Bedrooms
Square
Feet
Capacity
Bathrooms
Camping Butler & Camp Chef
24-Hour Transportation
Internet & Cell Service
Details
Moonlight Camp
4 two-bedroom tents
975
4 guests
En suite
Location: 100 yards from the Blackfoot River
Distance to Village: 4.4-mile drive
2 one-bedroom tents
605
2 guests
En suite
Creekside Camp
4 two-bedroom tents
830
4 guests
En suite
Location: On the banks of Elk Creek
Distance to Village: 4-mile drive
1.75-mile walk
2 one-bedroom tents
505
2 guests
En suite
Pinnacle Camp
4 two-bedroom tents
1,030
4 guests
En suite
Location: On the banks of the Blackfoot River
Distance to Village: 4-mile drive
1.75-mile walk
2 one-bedroom tents
( 1 honeymoon tent)
565
2 guests
En suite
River Camp
4 two-bedroom tents
830
4 guests
En suite
Location: On the banks of the Blackfoot River
Distance to Village: 4-mile drive
1.75-mile walk
2 two-bedroom tents
605
2 guests
En suite
Cliffside Camp
4 two-bedroom tents
975
4 guests
En suite
Location: On the banks of the Blackfoot River
Distance to Village: 4-mile drive
1.75-mile walk
2 one-bedroom tents
( 2 honeymoon tents)
605
2 guests
En suite
North Bank Camp
2 three-bedroom tents
1,220
6 guests
2 En suite
Location: On a ridge overlooking the Blackfoot River
Distance to Village: 4.4-mile drive
4 two-bedroom tent
984
4 guests
En suite
Group-Related Links