We are currently working on the details for this event. The content on this page represents our last event. Please check back later or contact Reservations for more information.
Wine & Bitch Dinner
Bone Appétit!
October 6, 2018
Chances are, there's nothing your dog likes to do more than eat. And at Paws Up, we approach every meal with that same level of gusto. So we're always excited to present our annual Wine & Bitch Dinner. Hosted by The Resort's Nadine Lipson and her trusty sidekick, Fenway, this unique event offers you and your pooch the chance to bond, relax and enjoy the finer things in life—together.
You'll stroll through a pet expo featuring dog massage therapists, a photo booth and agility demonstrations. Then you'll be treated to a gourmet feast created by Paws Up Executive Chef Ben Jones, complete with fine wine pairings, decadent desserts and scrumptious treats to slide under the table.
Lucy Postins, the founder and chief integrity officer of the Honest Kitchen, which produces all natural, human-grade whole foods for pets, will speak about her company and career. She'll also give away great prizes, including a lunch excursion with Postins at Paws Up's Trough. Wine & Bitch will also include a demonstration by a star canine member of Working Dogs for Conservation.
You and your four-legged friend never had it so good.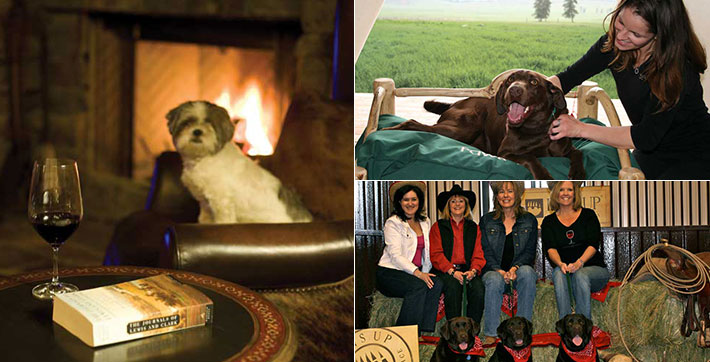 Sit. Stay.
Please join us! Tickets are just $100 per person. Reserve your spot now for the Wine & Bitch Dinner. All proceeds will benefit the Humane Society of Western Montana.
For overnight accommodations, please call 877-758-8644 or chat with us.
Note: Dinners during Paws Up culinary events are multi-course meals often prepared by guest chefs from around the country. Because these dinners are "chef's choice," there can be absolutely no substitutions or variations from the menu. If you have dietary restrictions, we encourage you to visit Paws Up at a time when our executive chef can cater to your specific needs.
---
Work off those calories the very next day.
Don't just train your dog—train with your dog for the annual Canine Classic walk/run/hike.