Now accepting reservations for 2018. Call 1-877-588-6783 or
live chat
with us now.
A New Year's Celebration
The Fire Artists of Missoula's MASC Studio
Featured Performers
MASC Artisans; presenting acrobatic air & fire
December 31
It's the hottest show in town, and front-row tickets are a given. The Fire Artists of Missoula's MASC Studio are returning for a second performance at The Resort at Paws Up. During last year's New Year's Eve celebration, guests were utterly mesmerized, and this December 31, these seasoned, spectacular dancers are at it again. "We loved performing at Paws Up! The crowd was in awe," said MASC Owner/Operator and Instructor Sj Beck.
Join us this year and you can expect to see choreographed routines in which the artists not only perform acrobatics while wielding flaming tools and batons but also transfer flames using their bare hands and—tongues! "That is a crowd-pleaser and generates bug eyes and dropped jaws!" said Beck. Fire performers also have the challenges of keeping a flame burning long enough to get through a routine, tossing a fire tool several feet in the air and catching it and, most importantly, avoiding burning facial hair and clothing. But in the end, seeing the looks on the faces of spectators is well worth the risks, and that's why the artists dedicate so many hours of practice to create a state of flow with flames. "It requires total absorption with one's art," said Beck.
Catch the Fire Artists this New Year's Eve soon after the stars appear in the Big Sky over The Resort.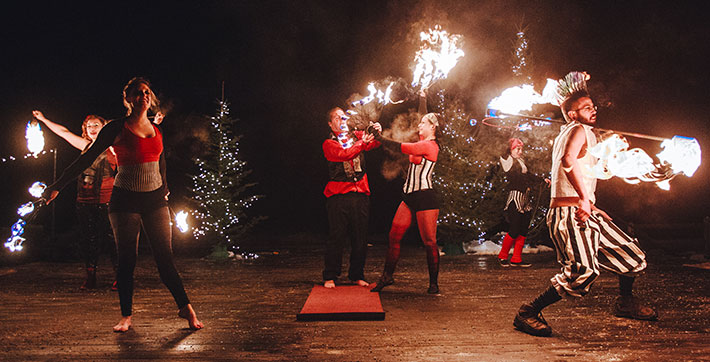 ---