Now accepting reservations for 2018. Call 1-877-588-6783 or
live chat
with us now.
A New Year's Celebration
Crystal Bowersox
Featured Entertainment
December 29 – January 1
Crystal Bowersox will provide the music for Paws Up's extravagant end-of-the-year celebration. She will perform with her trio for all New Year's Eve revelers to enjoy.
Crystal Bowersox's emotive folk-rock-country style catapulted her from the cramped coffeehouses and cavernous subway tunnels of Chicago to millions of homes across the United States when she placed second on Season 9 of American Idol. Along with her old soul of a voice, her carefree style and "don't mess with me" attitude set her apart from the other contestants and landed the self-taught songstress performances with Joe Cocker, Harry Connick, Jr. and Alanis Morissette.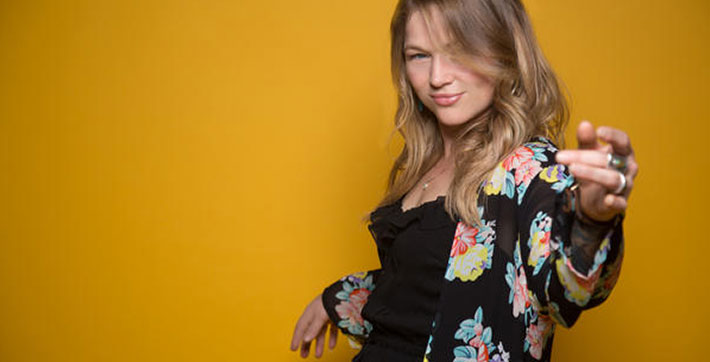 Bowersox has since made it her mission to live life and her music to the fullest. With a gentle warmth and wisdom well beyond her years, the consummate artist has an uncompromising vision of herself and her music that is refreshing and rare. "I believe if you stand for something," she says, "stand your ground; stand it strong and stand it proud." There is a sincerity and authenticity about her that just can't be manufactured. The same can be said about her musical prowess, which has all the markings of a creative force who is in it for the long haul. Her rich amalgam of blues, country, folk and rock makes her one of the most dynamic young voices in music to come along in years. All That for This, Crystal Bowersox's sophomore release, is a powerful testament to her talents as both a singer and songwriter, as well as her unerring musical vision. The album is the manifestation of her own womanhood and enlightenment, won through hard-fought battles, failures and triumphs. It reflects the belief that listening to your own inner voice will lead you where you need to be.
Until now, the world has witnessed only a portion of Crystal Bowersox's talent, which was channeled through mainstream pop expectations on her debut release, Farmer's Daughter. On All That for This, produced by Steve Berlin (Los Lobos, Sheryl Crow, John Lee Hooker, Raul Malo) and featuring a duet with Wallflowers' front man Jakob Dylan, Bowersox exposes a new dimension of her music. "There are definitely more happier, light-hearted moments on this record," confides Bowersox. "There are also touches of some of the darkest places and emotional states that I've been in my past. This album reveals a much more grateful and gracious side of me. It's the next chapter of my life."
Bowersox continues to play live shows in 2017 all over the United States, and usually manages to play about 300 shows a year.
---