Montana Master Grillers
Live Entertainment
May 25–28, 2018
Dan Dubuque
Friday, May 25
Paws Up welcomes Dan Dubuque as a special musical guest for our Montana Master Grillers celebration. A solo acoustic guitarist, Dubuque is known for his unique approach to the Weissenborn, a slide guitar that's played lap-style. Dubuque often adds percussive effects, playing the guitar like a drum while infusing every song with his free-sounding style. He picked up the Weissenborn after seeing singer-songwriter Ben Harper play one onstage. However, even though the instrument is used frequently in Americana and folk music, Dubuque is more of a rock guy. He frequently includes covers of harder rocking bands like Tool and Rage Against the Machine in his sets, along with his own original tunes. Being a solo performer has its ups and downs, but Dubuque says he wouldn't have it any other way. "I was born to do this," he said in an interview with the Missoulian. "You can't run from who you are."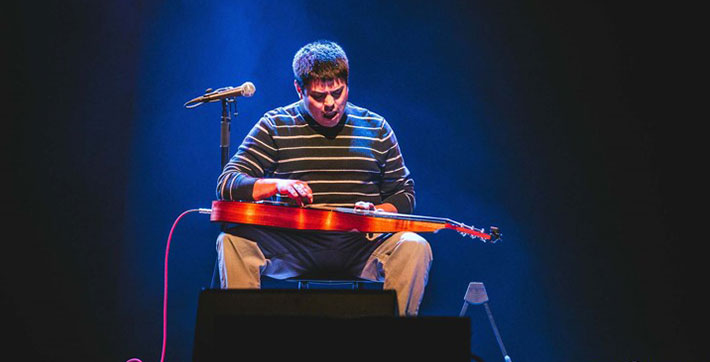 ---
The Timber Rattlers
Saturday, May 26
The Timber Rattlers are a classic bluegrass duo with a bit of flavor. Jamie Drysdale (guitar) and Jesse Brown (violin) both bring their touring history and seasoned musicianship to the table to provide that sought-after bluegrass sound. Their repertoire includes bluegrass standards, as well as a number of originals and fast-paced instrumentals. A great musical backdrop for your favorite beer or cocktail.
---
Andrea Harsell and Luna Roja
Sunday, May 27
Opening for The Lil Smokies are Andrea Harsell and Luna Roja. This potent quartet has a natural chemistry that can be felt as they blend elements of Americana, Rock and R&B into their own sound. Harsell's magnetic stage presence is supported by stalwarts who know their craft. Filled with songs about the human experience, social issues, love and love lost, the show is high energy and feels good. With a newly released album and a great new band, Harsell is forging ahead with new sounds and new songs.
Luna Roja features drummer Antonio Alvarez, guitarist Nick Hamburg and bassist Mike Hendy.
---
The Lil Smokies
Sunday, May 27
You're darn straight it's a fitting name to headline at Montana Master Grillers: the Lil Smokies. Their unique blend of traditional bluegrass, newgrass and sheer raw energy and musicianship has let them blossom musically and become leading players in the progressive acoustic sphere. These fine Missoula musicians have played with some of the giants of bluegrass and roots music, sharing the stage with Greensky Bluegrass, Steve Martin and the Steep Canyon Rangers, the Nitty Gritty Dirt Band, the Yonder Mountain String Band and many more. And when they enter competitions, well, other bands tend to get ready to accept second place. Because the Lil Smokies have won everything from the Northwest String Summit Band Competition and the Telluride Bluegrass Festival Band Competition to the International Bluegrass Music Association (IBMA) Momentum Award for Best Band.
---