Montana Long Table®
Taste of Napa
A Napa wine event you can sink your teeth into.
July 14, 2018
One of the West's foodie power couples, celebrated California Chef Casey Thompson and her winemaking husband Michael DeSantis, pair up for a little wining and dining at The Resort at Paws Up. Thompson was a fan favorite on Bravo's Top Chef, and her cuisine has been equally popular on every visit to Paws Up. She'll be bringing her California-inspired style and skills and showcasing them using regional and seasonal ingredients. DeSantis' boutique wine's name, Harumph, hints at the tone we'll set: it's about friends, food and fun.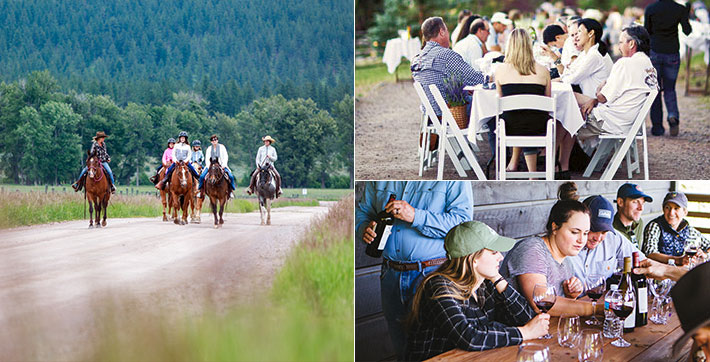 Local Montana chefs, along with Paws Up Executive Chef Sunny Jin, will create mouthwatering appetizer courses. Like Thompson, they'll be crafting dishes with foods from our local farmers market. Consider this culinary event all in the family—a very extended Napa to Montana family.
---
Schedule
Saturday, July 14, 2018
6:30PM–9:00PM
River Bend Picnic Site (near Moonlight Camp)
Guests staying in homes and Montana locals* will be picked up at 6:00PM at the Wilderness Outpost. Guests staying in tents will be picked up at their camps. Dinner is served at 6:30PM.


*Please call 406-244-7300 to inquire about available space and reservations.