Cowgirl Spring Roundup
Featuring Honorees of the National Cowgirl Museum and Hall of Fame
April 23–26, 2020
This spring, the cowgirls are coming—and you're invited along for the ride. Bring your inner cowgirl to life alongside some pretty amazing Cowgirl Hall of Famers. You'll spend your days brushing up on your horsewomanship and other important ranch skills with scenic trail rides, enlightening demonstrations and interactive workshops. And at night, you'll relive your adventures as you shoot the breeze around a roaring campfire. It will all be peppered with exceptional chef-prepared cuisine. Trust the women who come year after year: exhaustion never felt so good. Thankfully, your accommodations will be nothing short of luxurious.
Event Inclusions
Three nights of accommodations

All daily meals, nonalcoholic beverages and a selection of beer, red and white wine and well liquors

Up close interaction with featured guest cowgirls

A vast menu of recreational activities and your choice of wilderness adventures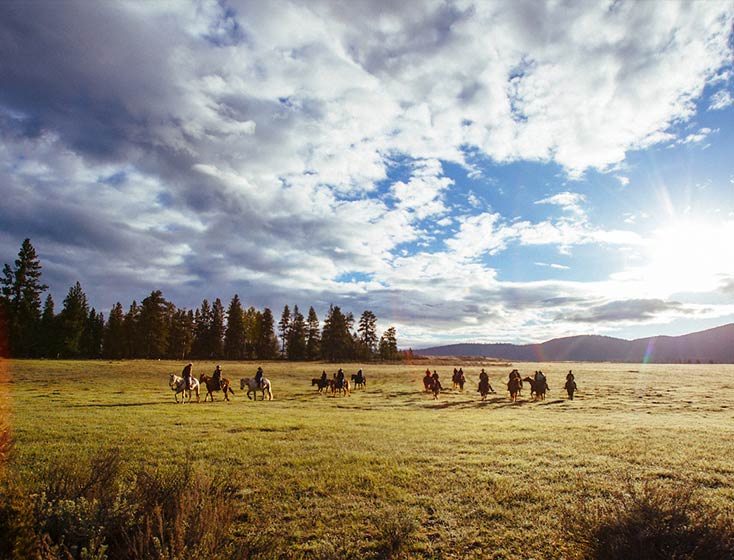 Paws Up has the magic of a 'Western Versailles' in God's country. Its world of horses serves as a backdrop for the inspired camaraderie that develops between women of determination and distinction.
Many honorees are artists, writers and women who have broken through the glass ceiling of their profession. It's about the entire cowgirl spirit. Spirit can be transferred to anything a woman does—from working on Wall Street to managing a business to being chief executive of your household. It is a passion to be the best person you can be and to overcome any obstacle that comes your way. I say this every year because I can't find another way of saying it—an event like the Cowgirl Spring Roundup elevates and renews its participants.
It is such a special time and wonderful experience to see all these women enjoying moving cattle, roping in the arena and photographing the horses, cattle and gorgeous scenery. The food is terrific, and the camaraderie and friendships formed last long after the workshop ends.