We are currently working on the details for this event. Please check back later or contact Reservations for more information.
AdrenZen: Spring
Feel the rush. Find the relaxation.
SPRING 2019
There's no better place to jump-start your health goals than right here in Montana. With help from leading wellness experts in the Missoula area, we'll get your adrenaline pumping and put you on a path to Zen-like tranquility. Our AdrenZen wellness weekends are designed to engage both the body and mind. One-of-a-kind activities include Buti and vino yoga classes, glide barre and mat Pilates classes and outdoor cardio and muscle building with a former pro bodybuilder utilizing our 37,000 acres of wilderness. Guided outdoor adventures and unique activities like the Sky Line Aerial Adventure Park only add to the fun. You'll even learn the art of juicing and preparing raw foods.
When you need a minute to rest, the scenery alone invites you to unwind. Meditate on the banks of the Blackfoot or find your bliss in a massage at our serene Spa Town®. Plus, you'll dine all weekend long on freshly prepared gourmet cuisine with a health-conscious twist. AdrenZen: Spring is the ideal getaway to relax, recharge and renew.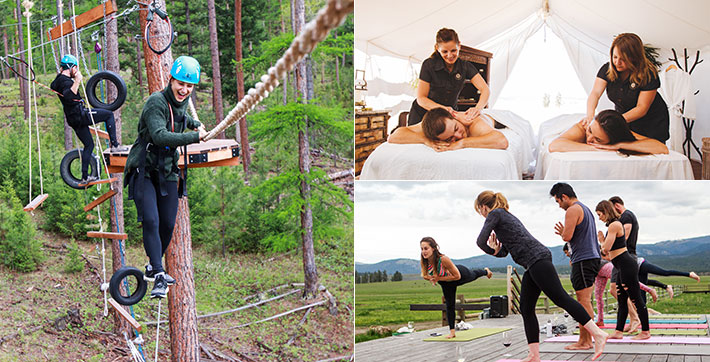 ---
I've never had an experience even close to the one at AdrenZen. Being at Paws Up, there was so much openness and freedom that I was able to invite everyone into my own personal space. I truly had an adventure and did things I thought I would've never had the chance to, and I was also able to find inner peace. The combination has left me fulfilled, anchored and grateful to be alive.

—Jen Widerstrom, AdrenZen guest fitness instructor
As an international retreat leader, finding a place that is as special as The Resort at Paws Up is rare. The space invites quiet reflection, exploration and growth, while also offering every luxury you could imagine. Everybody had an incredible time, and I loved hosting a wellness event there. Jen Widerstrom and I both look forward to bringing more growth and healing to this property soon.

—Lauren Taus, AdrenZen guest yoga instructor
My experience at The Resort at Paws Up for the AdrenZen weekend was the highlight of my year. All the staff throughout The Resort were extremely accommodating and kind and took care of any needs or questions that I had throughout my weekend. I had a wonderful time exploring the outdoors at The Resort of Paws up because of the exquisite location, respectful staff and impeccable service. I would highly recommend The Resort.

—Katelynn Lee, AdrenZen guest
I am fortunate to have been a part of AdrenZen weekend. The whole place is serene and magical, but what was really unexpected was the opportunity to push myself out of my comfort zone in a safe and relaxed environment. I would go back again and again.

—Bhavani Raju, AdrenZen guest