Smoothology 101: An Advanced Smoothie-Making Workshop
With Author Alison Lewis
October 20–23
Smoothie bowls are hugely popular for good reason—they're a perfect way to add fresh fruits, superfoods and protein to your diet. Adding a smoothie bowl to your morning routine guarantees a great start to your day, and they're not just for breakfast. They can be enjoyed anytime you need a refreshing, filling and healthy meal or a satisfying dessert. Learn how easy it is how to build a smoothie bowl and their health benefits, key tips, ingredients and more. Author Alison Lewis will present a hands-on workshop to share recipes from her latest cookbook, 200 Best Smoothie Bowl Recipes, such as Mango Green Bowl, S'mores Bowl and more.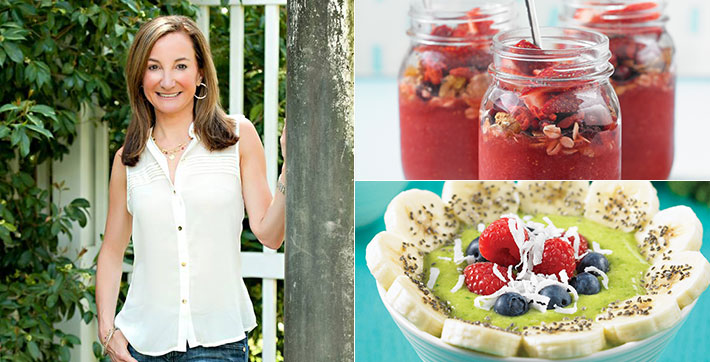 Alison Lewis is a travel and food journalist and media consultant who has worked with magazines such as Atlanta Homes & Lifestyles, Better Homes & Gardens, Clean Eating, Coastal Living, Cooking Light, Fitness, Islands, Oxygen, Southern Living, Travel & Leisure, Turks and Caicos and Western Horse & Gun. Lewis launched Healthy Travel magazine in 2013 and has been a wellness travel expert for U.S. News and World Report and USA Today.
Lewis is also a food and travel journalist and photographer and a renowned recipe developer. She is the author of 150 Best Grilled Cheese Sandwiches and 400 Best Sandwich Recipes. Lewis joined The Resort at Paws Up in 2016 as media relations manager, social media manager and wellness event manager.
I've never had an experience even close to the one at AdrenZen. Being at Paws Up, there was so much openness and freedom that I was able to invite everyone into my own personal space. I truly had an adventure and did things I thought I would've never had the chance to, and I was also able to find inner peace. The combination has left me fulfilled, anchored and grateful to be alive.

—Jen Widerstrom, AdrenZen guest fitness instructor
As an international retreat leader, finding a place that is as special as The Resort at Paws Up is rare. The space invites quiet reflection, exploration and growth, while also offering every luxury you could imagine. Everybody had an incredible time, and I loved hosting a wellness event there. Jen Widerstrom and I both look forward to bringing more growth and healing to this property soon.

—Lauren Taus, AdrenZen guest yoga instructor
My experience at The Resort at Paws Up for the AdrenZen weekend was the highlight of my year. All the staff throughout The Resort were extremely accommodating and kind and took care of any needs or questions that I had throughout my weekend. I had a wonderful time exploring the outdoors at The Resort of Paws up because of the exquisite location, respectful staff and impeccable service. I would highly recommend The Resort.

—Katelynn Lee, AdrenZen guest
I am fortunate to have been a part of AdrenZen weekend. The whole place is serene and magical, but what was really unexpected was the opportunity to push myself out of my comfort zone in a safe and relaxed environment. I would go back again and again.

—Bhavani Raju, AdrenZen guest