Henry the Sports Bug Camp
Here, kids love it when we bug them to exercise.
This summer, the biggest bug in Montana isn't the salmon fly—it's Henry the Sports Bug.
Part sport, part adventure and all fun, the Henry the Sports Bug Camp seamlessly fits into your Paws Up experience. Along with the popular Kids Corps of Discovery, this new kids' program includes lots of nurture with plenty of nature, compliments of Montana's great outdoors.
Henry, the hero of a series of books and videos created by former collegiate and pro-circuit tennis player Melissa Detwiler will take up a summer-long residency at The Resort. Detwiler uses her background in sports, Henry the adult-size buggy mascot and local athletes to help kids develop a love of sports and good sportsmanship. Henry the Sports Bug Camp teaches everything from soccer and tennis to golf and Hula-Hooping, as well as how to build self-confidence and make healthy lifestyle choices.
Camp activities are for ages 3–8. Rest assured, your little ones will be sure to catch the sports bug. And that's a good thing.
---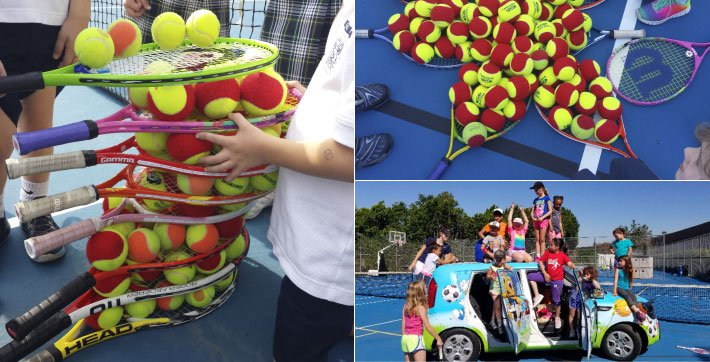 ---
Henry the Sports Bug Camp Rates & Schedule

JULY 7–AUGUST 25, 2018
$150 per person, per session. Ages: 3–8.
AM CAMP
Time
Place
Activity
9:00AM–9:30AM
Wilderness Outpost
Check in and supervised free play with basketballs and dodgeball
9:30AM–10:30AM
Paws Up Tennis Court
Sports, including basketball, golf, soccer and tennis
10:30AM–10:45AM
Paws Up Tennis Court
Snacks and carnival games
10:45AM–11:45AM
Paws Up Tennis Court
Sports, including basketball, golf, soccer and tennis
11:45AM–12:00PM
Paws Up Tennis Court / Wilderness Outpost
Carnival games with a prize store; camper pickup
PM CAMP
Time
Place
Activity
1:00PM–1:30PM
Wilderness Outpost
Check in and supervised free play with basketballs and dodgeball
1:30PM–2:30PM
Paws Up Tennis Court
Sports, including basketball, golf, soccer and tennis
2:30PM–2:45PM
Paws Up Tennis Court
Snacks and carnival games
2:45PM–3:45PM
Paws Up Tennis Court
Sports, including basketball, golf, soccer and tennis
3:45PM–4:00PM
Paws Up Tennis Court / Wilderness Outpost
Carnival games with a prize store; camper pickup